Filed under: news by Jeff Servaas |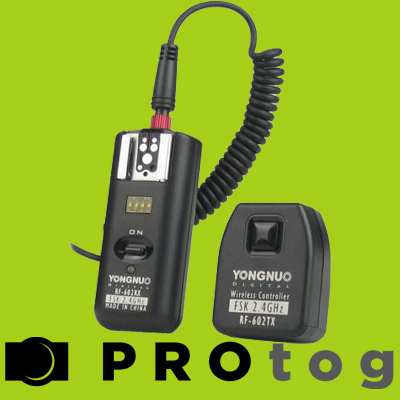 We are now carrying stock of the Yongnuo CTR301P wireless flash triggers, and the RF602/C (for Canon) and RF602/N (for Nikon) wireless flash triggers. Yongnuo triggers have been getting great reviews on various photography sites, such as Flickr and dpreview.com.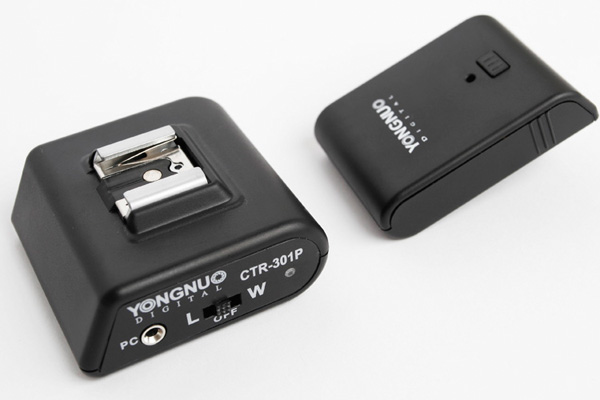 So why are we carrying two different Yongnuo flash trigger systems?
Both systems will mount and work with almost all DSLR cameras with a hotshoe, and almost all speedlight and studio flashes, except for Sony/Minolta equipment. The main difference between the two systems are as follows:
Wireless frequency and Wireless range: The CTR301P works on the 433mHz frequency, making it compatible with other 433MHz systems such as the Cactus wireless flash triggers. The range of the CTR301P is around 10m, which is fine for most studio or outdoor photo shoots. The RF602 works on the 2.4GHz frequency, which provides a range of around 100m, and a stronger signal in buildings with interference issues. We have a customer who was having interference issues using his cactus remotes with his Canon 5D. Moving to a RF602C trigger and three RF602RX receivers has removed any interference issues, and he is now getting great results from his 3 flash set up for real estate photography.
Mounting System: The CTR301P receivers has a1/4″ thread mount on the base, which fits on a standard light stand, whereas the RF602 as a standard Hotshoe mount. If you want to use these wireless flash triggers with speedlite flashes, that means you need a FH02 umbrella/flash mount for RF602, and a FH07 for the CTR301P  wireless triggers.
The RF-602 can also be used as a remote shutter release, so they serve a dual purpose.
Whichever solution you choose, you are bound to get great value, and increased options for  your off-camera flash setup.
Comments (1)