Filed under: news by Jeff Servaas |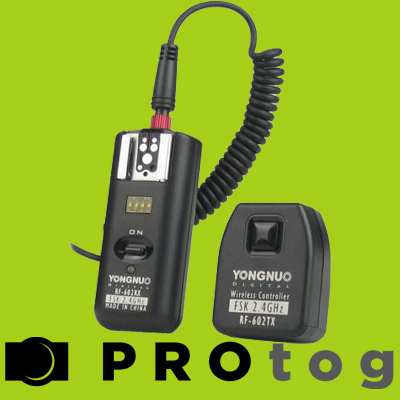 We are now carrying stock of the Yongnuo CTR301P wireless flash triggers, and the RF602/C (for Canon) and RF602/N (for Nikon) wireless flash triggers. Yongnuo triggers have been getting great reviews on various photography sites, such as Flickr and dpreview.com.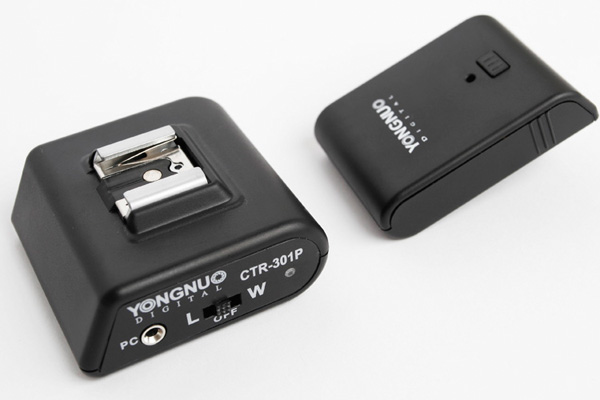 So why are we carrying two different Yongnuo flash trigger systems?
Both systems will mount and work with almost all DSLR cameras with a hotshoe, and almost all speedlight and studio flashes, except for Sony/Minolta equipment. The main difference between the two systems are as follows:
Wireless frequency and Wireless range: The CTR301P works on the 433mHz frequency, making it compatible with other 433MHz systems such as the Cactus wireless flash triggers. The range of the CTR301P is around 10m, which is fine for most studio or outdoor photo shoots. The RF602 works on the 2.4GHz frequency, which provides a range of around 100m, and a stronger signal in buildings with interference issues. We have a customer who was having interference issues using his cactus remotes with his Canon 5D. Moving to a RF602C trigger and three RF602RX receivers has removed any interference issues, and he is now getting great results from his 3 flash set up for real estate photography.
Mounting System: The CTR301P receivers has a1/4″ thread mount on the base, which fits on a standard light stand, whereas the RF602 as a standard Hotshoe mount. If you want to use these wireless flash triggers with speedlite flashes, that means you need a FH02 umbrella/flash mount for RF602, and a FH07 for the CTR301P  wireless triggers.
The RF-602 can also be used as a remote shutter release, so they serve a dual purpose.
Whichever solution you choose, you are bound to get great value, and increased options for  your off-camera flash setup.

Comments (1)

Filed under: news by Jeff Servaas |


For those of you who are sceptical of using Rechargeable battereis in radio microphones, Mike over at Church Tech Arts has done some thorough runtime testing of various AA rechargeable batteries in Shure UHF-R UR2 microphones with SM-58 capsules. Mike also includes ProCell Alkaline batteries as a comparison for those using Alkaline AA batteries .

The Powerex 2700 AA and Sanyo 2700 AA both had the longest runtime at 14 hours, eneloop came in at 11 hours, and the alkalines ran for 9.75 hours. You can be assured that quality recargeables will pay for themselves. Mike tested a set of 4 year old rechargeable AA's and found they were still outperforming Alkaline batteries by 4 hours.

Mike has a great overview of why you may have been burned by rechargeables in the past.

Click here for a full explanation of the test setup Mike used.

Comments (0)

Filed under: FAQ by Jeff Servaas |



We sometimes get asked: "what is the best charge rate to use in my MH-C9000 for my batteries?".

We recommend 0.5C as a standard charge rate. That is 0.5 multiplied by the battery capacity. Here is an example:

0.5C charge rate x 1000mAh battery capacity = 500mA charge rate.

If you are in a hurry, you can use a charge rate up to 1C without concern of damage, but at 0.5C charge rate you will get a more complete battery charge. A slower charge will result in a slightly higher capacity, and it is easier for the battery to absorb the energy at a slower rate, which will contribute to a longer battery life. So why not charge even slower and get more charge capacity and more battery cycles from the rechargeable batteries?

Using a slower charge rate has a diminishing marginal benefit. Going any slower than 0.5C does not result in much difference to energy capacity or battery longevity.Futhermore, we recommend a minimum charge rate of 0.3C. Below 0.3C it is more difficult for the MH-C9000 to detect the change in voltage and know when to terminate the charge.

As a guide, here is a chart for our main battery models:
| | | | |
| --- | --- | --- | --- |
| Battery | Minimum charge rate | Recommended charge rate | Maximum charge rate |
| AAA IMEDION 800mAh | 300mA | 400mA | 800mA |
| AAA Powerex 1000mAh | 300mA | 500mA | 1000mA |
| AA IMEDION 2100mAh | 600mA | 1000mA | 2000mA |
| AA Powerex 2700mAh | 800mA | 1300mA | 2000mA |
Comments (4)

Filed under: news by Jeff Servaas |



It only takes one or two bad batteries to affect the performance of all your batteries, because AA batteries are typically used in sets of 2 or 4.Being able to identify which batteries are not performing allows you to group batteries into sets that are still good. That's just what Tony did. By being able to test the health of the 3 sets of AA rechargeable batteries Tony already had, he saved $40 in the first week of ownership of his MH-C9000, by matching up 2 good sets and not having to replace his old, poorly performing batteries.

Read more about Tony's experience here.

Comments (1)

Filed under: news by Jeff Servaas |



We have a fair amount of customers who shoot Nikon, and many of you doing a lot of off camera flash photography in weddings and portraits are using SB800 speedlites. So we talked to MAHA about packaging up their batteries in 5 packs rather than 4 packs, and we now have the Powerex 2700mAh AA battery 5 pack, including an 8 battery case

Should we also introduce a 5 pack of IMEDION AA's for those of you who are after a low self discharge solution for their SB800?

Comments (0)

Filed under: Uncategorized by Jeff Servaas |



If you want to follow the happenings at PROtog and you are into twitter, you can follow us @_Protog

Comments (0)

Filed under: news by Jeff Servaas |


Earlier this month I was interviewed about battery technologies by Gary Stark of the Gadget Grill. We talked about the difference between Lithium batteries, Nickel Metal Hydride (NiMH) batteries, Nickel Cadmium (NiCad) batteries, and Alkaline batteries. We also talk about the difference between smart chargers and timer chargers.

If you want to have a listen, browse on over to The Gadget Grill, or you can download an MP3 Podcast of the interview here. The interview starts at about minute 17.

Comments (0)

Filed under: FAQ by Jeff Servaas |



Christmas is once again approaching, and for those people with kids, that means new toys, and new batteries to power them. While an increasing number of toys use AA batteries, many larger toys need the capacity of a C or D battery. The cost of powering those toys with disposable C or D batteries adds up, and contributes a substantial amount to landfill each year.
Rechargeable C and D batteries solve this problem, providing 3 times the power of disposable batteries, so the toys don't need the batteries changed as often, and since each battery can be recharged hundreds of times, the landfill is substantially reduced by using rechargeable C and D batteries. Rechargeable C and D batteries are available in High Capacity Powerex C and Powerex D rechargeable batteries, and also as Accupower Low Self Discharge C batteries and Accupower Low Self Discharge D batteries. LSD batteries are great for toys and other devices which are not used regularly. The lower self-discharge rate of these batteries means they are ready to use when you need them, and are perfect for use in large Maglite torches.
To recharge C and D batteries, you need a battery charger capable of charging the C and D size batteries. While other C and D battery chargers do exist, the Maha Powerex MH-C808M C and D battery charger can charge 8 C batteries in 2.5 hours, or 8 D batteries in just 5.5 hours, and is also capable of charging AA and AAA batteries. It can charge any mix of different batteries at the same time, terminating the charge of each separate battery once the battery is full. By constantly monitoring the change in voltage (Delta V) of each battery, the battery charger ensures the battery is fully charged, but not over-charged. The status of the cahrge on each battery is also displayed on a backlit LCD screen, making it eacy for anyone in the family to use.

The MH-C808M includes a Conditioning feature to discharge batteries, which helps keep batteries heathey when they are not being used regularly. When conditioning/discharging with the MH-C808M, we recommended that you put the highest capacity cells toward the left of the charger as the heat from the discharge circuit is on the right. Higher capacity cells will generate more heat, so by keeping the higher capacity cells away from the heat, the charger and batteries will run cooler.

It is easy to see why Maha call the MH-C808M the "Ultimate Pro Charger".

Comments (0)

Filed under: FAQ by Jeff Servaas |



The BREAK-IN mode ion the MH-C9000 is the perfect way to start your new rechargeable batteries lives. It helps to properly form the chemical structure inside the batteries by charging and discharging them gently, at a fixed charge and discharge rate, which is proportional to the capacity. BREAK-IN mode is also useful for rejuvenating old batteries that have not been used for several months.

Doing a BREAK-IN cycle on the MH-C9000 is a 39 hour process, irrespective of battery capacity. To do a BREAK-IN on your AA or AAA batteries, I recommend you discharge the batteries first. This is not necessary, nor is it mentioned by MAHA in the MH-C9000 user manual, it is just a personal preference. To discharge the batteries, place a battery into the first slot, then use the arrow keys to move the mode to DISCHG. Press the ENTER key, and press ENTER again to use the default discharge rate. Discharge on the first slot will start. Repeat for each slot. If your batteries are fully charged, discharge will take 4-5 hours. Once each slot shows DONE on the LCD next to the slot number, remove all batteries, and wait 5 seconds.

Place the first battery into the first slot. Use the Up and Down arrow keys to select BREAK-IN mode. Use the Up and Down arrow keys to set the battery capacity. Press the ENTER button. Repeat this process for slot 2, 3, and 4.

The charger will charge at 10% of the battery capacity. For 2100mAh IMEDION batteries, the charger will calculate the charge rate as 210mA (0.1C) and charge at that rate for 14 hours. After 14 hours of charging, it will rest the batteries for 2 hours, then discharge at 420mA (0.2C) until it detects the batteries are empty, which will take around 7 hours. It will then rest the batteries again for 2 hours, then charge them again at 0.1C for 14 hours.

At the end of the 39 hours, the battery capacity will be displayed. This mode of the MH-C9000 follows the IEC standard for measuring battery capacity

to measure a battery capacity as per the standards set out by the IEC (International Electrotechnical Commission).

Comments (4)

Filed under: news by Jeff Servaas |



Following on from our write-up on AA Low self discharge battery test results, here are the results for AAA low self discharge batteries. These results are from archae86, a member of the DPReview forum. He tested 7 different brands of AAA low self discharge batteries over a period of several months. Of the brands tested, 4 brands are readily available in Australia. I have summarised the results into the below chart and graph. The tester found that the IMEDION AAA rechargeable batteries had a higher capacity than Sanyo eneloop AAA batteries, Uniross Hybrio AAA, and Duracell Precharged AAA. For full test details, click here to visit the DPReview forum.
Comments (5)